Posted on
By Marie Lyne Dubé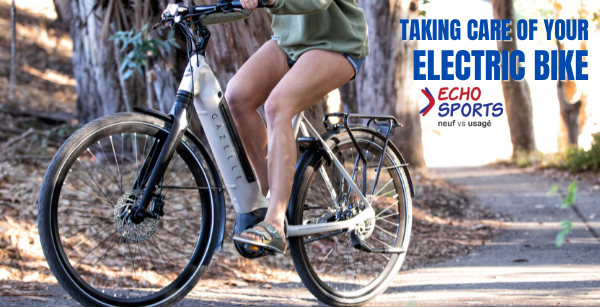 An electric assist bike is a good investment, even for bikes on lower prices. Keeping it in good functioning state will let you enjoy it longer and if you decide to upgrade, keep its resale value as high as possible and get a good cash down on your next bike is a good thing!
Here are a few pointers to keep your electric bike in good "health".
BATTERY :
When you have just acquired a brand new electric bike, the battery has not been used yet and will need to cycle a few times before it is fully operational. Cycling meaning, charging cycles, it will need to cycle about 10 times before it can provide 100% of its possible power. So when you take your ride for the first times, don't expect it to go to the full range it promises and when you come back, even if you've only done 20kms, charge it for at least 10 times after each ride. After that, you can let it go completely empty, they are designed for it.
A battery life is measured in cycles, in average the current batteries can handle 1000 to 1500 charging cycles. But they also age with time. Every year that goes by, no matter how little you use the battery, it loses a bit of power. For example, a brand new battery will give you 100% of power on your 100km range, the next year it'll be closer to 90km and so on. After 5 years, your battery is pretty old, even if you feel you haven't cycled it that much­. 
However it is now possible to reconditioned a battery and give it a second life for a fraction of the price of a brand new battery. The prices of batteries vary and is set according per kilowatt-hour, the more powerful the battery, the more expensive. The good news is the Kilowatt-hour prices have been steadily dropping in the last 5 years due to greater demand, while the batteries themselves have become more powerful and efficient. So don't worry too much about the need to eventually change the battery.
If you plan to use your electric bike in winter, know that your battery keeps itself warm, so no worry about the cold. But, do not let it sit in the cold on your bike when not in use, as it will draine phenomenally fast! 
If you do not plan to use your bike during winter, remove it from your bike and store it away in a dry tempered environment. Just recharge it a few times during winter so it doesn't go dead for months. 
THE BIKE CHAIN :
The bike chains used on electric bikes are a bit more resistant and also a bit longer then the ones found on regular bikes. It's normal too as they are subject to a lot more stress with a motor assisting then as a regular bike where the pressure is only as hard as your leg can muster. You'll hear sometimes that it should be oiled after a certain amount of kilometers, but this can be misleading because it also depends on what surface you ride: if you only ride on the road manly or on paved bicycle paths, it won't need as regular cleaning and oiling as if your are constantly riding on dusty gravel paths. 
Our bike technician has a great trick: touch the chain and rub the oil between your fingers. Yes, we know it's dirty, but it's the best way to check the oil's state. When you feel tiny grains, you should clean and oil. Always use good quality bike chain lubricant. When you're sure it's well oiled, it's important to pat the surplus with a cloth that won't leave particules behind. These oils are designed to spread easily, you do not want it near your brake system (really not a good idea, true story!) and keep your pants clean too. 
The life expectancy of a chain is much like tires, it is not measured in years but more in usage. After a while, a chain will stretched a bit, which can seriously damaged your gears. It is much better to change the chain then to have to change a whole speed cassette. This is something that is systematically checked when you send your bike for a tune up at the beginning of the year. You can also buy a gadget that can let you measure the distance between the links. But if you do a lot of kilometers in one given season, checking this once a season probably wont be enough. Just stop by and let us have a look, better be safe then sorry. 
If you want to ride all Winter, it's a whole new ball game and you'll need to clean and oil your chain after each ride, the rest of your bike should be cleaned up too. De-icing salt, sand and other abrasives used on the road is deadly for your chain and damage the rest of your bike too. So unless you live in a place where you ride on surface that have no salt, sand, etc., expect to do a lot of maintenance and cleaning on your bike. 
There is also carbon belt drive as chain replacement. 
This new technologie means no oiling and these carbon belts are also more resistant on the long run. It is more expensive, but low maintenance. You'll find them on high end bikes such as the Bulls Lacuba EVO E8, the Gazelle C8, the Gazelle C380, the Tern HSD P9 and the Tern HSD S8i.
THE BRAKES :
We've all experienced that squeezing getting lose on the brake lever, don't wait when this happens. It is the first sign that your brakes need maintenance, it's time to have them check. As for the chain and tires, prevention is a lot less costly then repairs. If they're hydraulics, it may just be a bit of oil. 
In any case, it's better to know how far your brakes are in terms of use, because if they are going to need replacement soonish, you want to know ahead of time in case your bike shop needs to order some components. This will avoid having to leave your bike at the bike repair shop for longer than necessary. This is also something that is checked during a tune up. But if you ride a lot, on hilly paths also, you might want to keep an eye on them from time to time.
TIRE PRESSURE :
More for your own safety than for the bike itself, you should always check your tire pressure before a ride and adjust as needed. Tires that are a bit soft will make you labor like crazy on hard surfaces, but will give you a better grip on sand or snow. However too hard on hard surfaces and every bumps and holes will rock the bike and loosen a lot of parts. You will enjoy your rides so much more if you don't have to stop somewhere to readjust tire pressure, even more so if you can't find a place to do it. You can also carry a portable small air pump, that way in case you are stuck with a slow air leak, you'll be able to manage. 
When you take your bike for its annual tune up, the wear of the tires is also evaluated. It's a good idea to let the bike technician of what you do with your bike, in case your practice has change. For example, maybe you started with a few rides on paved roads, but perhaps you have moved to gravel and dirt. If tires need changing, might as well put the best one for the use according to whatever you do now with your bike. 
All these tips will helpyou keep your electric bike in the best shape possible and also keep you safe. You have more questions? No problem, contact us and talk to our experts, we'll gladly help you!