Posted on
By Marie Lyne Dubé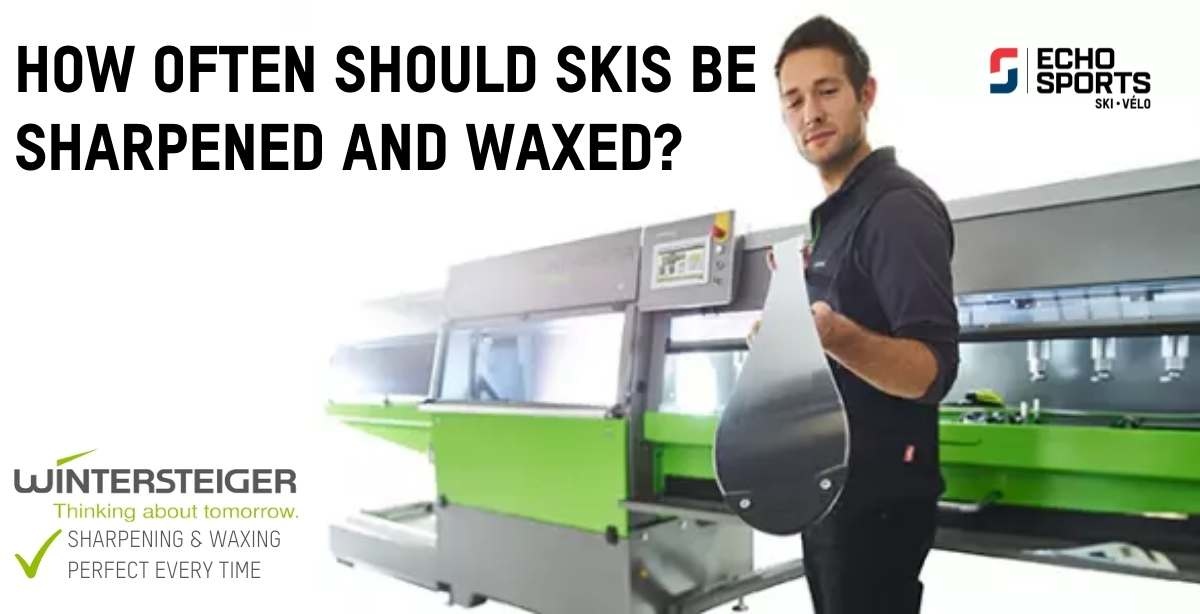 The very first day on the slopes with brand new skis is magical. Fresh out of the factory, your skis are at peak performances.

Brands such as Rossignol, Head, Elan, K2, Atomic to name just a few, invest a great deal in R&D just so they can offer high end performances. Here are a few tips on how to care for alpine skis so they maintain all the greatness and performances for which you bought them in the first place. :)
REGULAR SKI MAINTENANCE
Precision of sidecuts (the specific angle on the ski sides) has a big impact on the sensitivity and the control when carving, while the sole itself will greatly influence the speed, the very sensation of skiing.   
If you pay attention, you can feel when skis need to be sharpened. You'll notice they are not responding as sharply as they used to, when initiating turns. The main role of waxing is protection, wax will grease the ski sole to prevent water damage which can cause it to crack, so your skis last longer. All skiers tend to progress with practice, so will you and you will to upgrade your equipment eventually. Well maintained skis also maintain a good resale value, so it's a good thing to take good care of them, as much to keep your skis performing well while you're using them, as much as to keep a good market value for when you decide it's time for a new gear. 
Basic steps for taking good care of your skis :
Sharpening
Structure
Waxing
SHARPENING
How often should skis be sharpened: for the average skier (2-3 times a week or less) should be three sharpenings in a given season:
Mid December. Just before the Holidays, so your skis are ready for a bit more intensive use
Another time in mid February, which should be enough to finish the season 
One last time when the season is over, at our ski shop we call this End of season care , which gets them ready for storage
The End of season care  consists in a sharpening with structure, hand waxing with a hot iron, where we'll apply wax generously, especially over the sidecuts to prevent rusting, releasing the tension on your bindings to keep the springs in good shape. Then when the season begins, you just drop at our ski workshop, for a quick start of the season tune up, where we'll readjust your bindings and clean the excess wax from your skis. This service is free when you purchase End of season care service.
The frequency for sharpening is directly linked to usage. If you are skiing nearly every day/evening, you will need more then just three sharpenings during the season. When you start to feel that slight loss of control sensation when initiating turns, or your skis feel sluggish, slower; it's time to have them sharpened. Don't wait for a bigger loss of control where you end up abruptly smooching a tree, or  another skier on the slope, totally against his will...and yours!
You may buy what you need to sharpen and wax your skis yourself, just be sure to know what you are doing. If you screw up waxing, your performances will suck but it's easily fixed. If you screw up sharpening, you might end up with premature wear of the sole or damage your favorite skis beyond repair. 
In doubt, drop by our ski workshop. Our ski workshop is now equipped with state of the art automated ski service station Wintersteiger Scout2 Plus, which guarantees professional sharpening and waxing every time, which extends the ski life expectancy and absolutely no risk of damaging the skis. Every ski brands, all of them, are using a Wintersteiger machine, when you purchase a brand new pair of skis, you can be sure that the very first sharpening and waxing done at the factory, was done by a Wintersteiger automated station. 
STRUCTURE
The structure is the pattern engraved in the sole of the ski. Designs will vary with the performance you wish to achieve and the main goal is to efficiently evacuate water under the sole when you are skiing, just like tire treads do. 
Depending on ski conditions, you might want wider channels for wet snow or narrow ones when it's very cold. in other words, optimizing your skis according to the conditions.
So you could decide to get wider channels to begin the season and for the end of the season as well, but have a different one done for January, when it's much colder and powder is almost dry. If you wish to know more, talk to one of our technicians, who can tell you more about this personalized service. 
WAXING
Waxing should be done more frequently then sharpening or structure. When you ski, the friction causes the snow to slightly melt, so the wood sole of your skis is always in contact with water. The wax will grease the wood of the sole, protecting it against scratching from debris or ice chards. It also makes the wood waterproof. This will protect it against water damage, which dries up the wood and causes it to crack. It also improves skiing performances, by letting you glide efficiently on that thin film of water with no resistance. 
Our ski workshop offers two types of waxing : Winterseiger WaxJet suface waxing et Wintersteiger infrared deep waxing
After each ski day/evening, clean your skis with a dry cloth and let them dry completely. Before your next ski outing, reapply a surface wax, either liquid or with a hot waxing iron. If you have neither the time or the will to do home waxing, drop by our ski workshop on your way to the ski resort for a Winterseiger WaxJet suface waxing service (9.99$)  or a Wintersteiger infrared deep waxing service (14.99$) 
When do you need get your ski waxed depends on the usage, while the type of waxing depends on the state of the ski sole. 
If  you've been all day on piste, you're riding on granular crud snow at the end of the day, wax will wear out a lot faster on this than on powder. If you wax before each ski outing, a surface waxing should be sufficient. But consider that after 2-3 days or evening hitting the slopes, there is absolutely no wax left under your skis. You should consider infrared waxing. 
PRO TIPS
When cleaning your ski after a day on the slope, do a thorough examination of the sole. Small cracks can easily be fixed when done in time, otherwise you risk those cracks increasing in size with each ride downhill, maybe ruining your *babies* for good. Our technicians are magicians when it comes to repair and chances are, we can fix it, whatever it is. 
So, to sum it up, wax your skis regularly with a few sharpening during the season and not only will your skis last longer, but you'll get that New Ski Day feeling every day. 
Got any questions or need more information? Don't hesitate to contact us. 
Go ski and stay safe!